Pentagon Slashes Army Tactical Radio Buy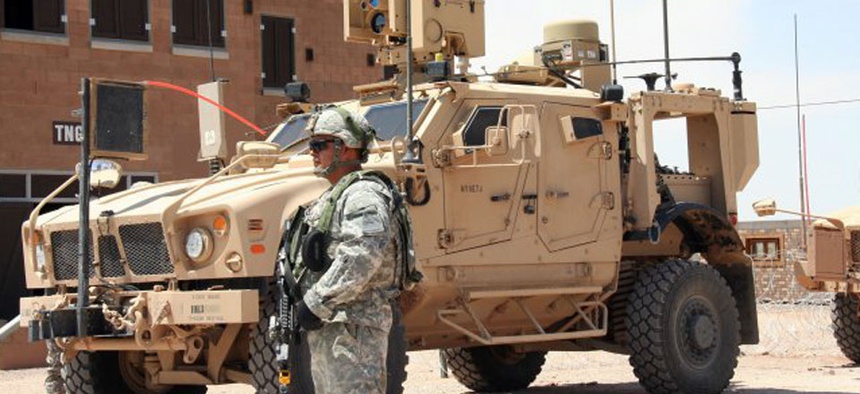 This story has been updated with additional information about space system funding.
The Defense Department is requesting $1.2 billion less for command and control and space-based systems in 2015 over what Pentagon officials asked for in 2014.  
The $6.6 billion request for command and control systems in 2015 is down $400 million from the $7 billion military planners asked for this year, while the $7.2 billion funding request for space based systems is $800 million below the department's $8 billion request in 2014.
The Army took the biggest hit in command and control systems. Service officials would receive $542 million for Tactical Networking Radio Systems (formerly the Joint Tactical Radio System), down $289 million from the $831 million enacted in the 2014 budget. The funding would allow the service to purchase handheld, backpack, vehicle and helicopter radios for Army tactical units and support development of software waveforms that define bandwidth, frequency and security.
The 2015 budget requests a modest  $26 million increase for the Army's long-haul Warrior Information Tactical Network to $920 million from the $894 million enacted in 2014, with the funds focused on equipping one brigade combat team and one division along with upgrades to hardware already in the field. The Army had planned to use unmanned aerial vehicles to extend the reach of WIN-T, but the Pentagon said in its budget overview the next generation of WIN-T has been "significantly de-scoped" to a software only project.
The Pentagon also decided to cut funding for procurement of additional space vehicles for its secure communications and GPS satellites with $5 billion in savings over the next five years applied to tactical satellite communications systems and the space-based infrared system, which was a decade behind schedule when the first of its six satellites was launched in 2011.
Defense requested $613 million in 2015 for its Advanced Extremely High Frequency satellite system, up $19 million from 2014. These finds will be used to buy two additional secure satellites with built in anti-jam capabilities that  can transmit data at a rate of eight megabits per second. The satellites will replace AEHF satellites already in orbit after they reach the end of their useful life. The Pentagon opted not to buy another two AEHF satellites.
The Air Force plans to purchase two additional advanced GPS III satellites with a budget request of $1.2 billion, down $194 million from 2014. The GPS III satellites incorporate features not found in earlier generations, including two new signals for civil users and a new encrypted military signal.
The Air Force deferred planned procurement of two more GPS III satellites until after 2019 as the satellites already in orbit "are lasting longer than previously forecasted," Defense said in its budget overview.