Once and for all, Yahoo CEO Marissa Mayer is not a Google double agent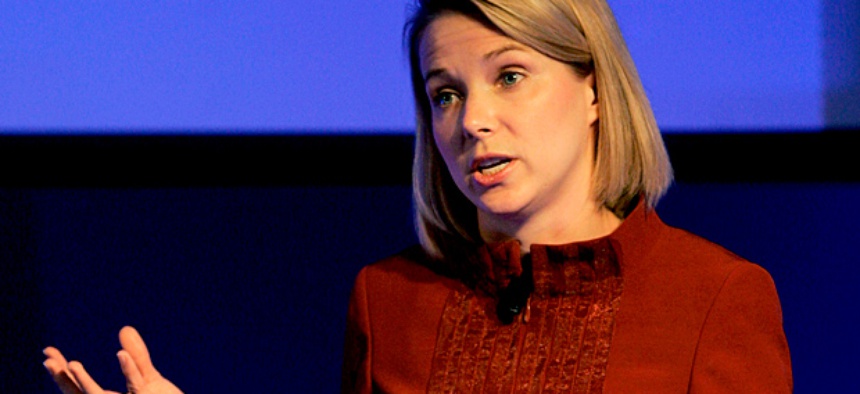 When Yahoo appointed former Google loyalist Marissa Mayer as CEO, some suspected that it was part of a Google plot to bring down the competition. While never a very likely scenario, it looks even less likely today. First of all, Google didn't even know about Mayer's departure until 30 minutes before the public announcement, an anonymous source "familiar with the details of her dramatic hiring" tells Business Insider's Nicholas Carlson. Mayer asked Yahoo to delay notifying Google until around 12:30 p.m. PST on July 16, mere hours before the rest of us found out, because she didn't want to risk getting a better offer that might tempt her to stay. The timing suggests Google didn't know about Mayer's new Yahoo gig, meaning the company couldn't have possibly set the whole thing up as part of a conspiracy to implant one of their own within. We can't be sure that this anonymous source isn't a party to the whole thing (though, Carlson assures us he is "good"), but it adds some compelling evidence to debunk the suggestion.
The idea of this possible cabal popped up when Yahoo announced the Mayer choice, which The New York Times' Andrew Ross Sorkin and Evelyn M. Rusli called a "surprising coup" because Mayer had been with Google for so many years. Why would she leave a happy place like Google, for a depressing one like Yahoo? This was so surprising that some wondered if Google had set the whole thing up. "Is this a devious scheme by Google to either a) get their hands on or b) sabotage their former arch-rival in the web portal race?" wrote Mark Bivens at the Rude Baguette, an English language French news site. "By installing one of their most loyal lieutenants (remember, Mayer was employee #20 at Google), could this be a sneaky tactic to repurpose Yahoo! from the inside, perhaps even using Yahoo! as a pawn in the greater battle against Facebook," he continued. That same sentiment popped up on a Quora thread discussing "Why did Marissa Mayer accept the CEO position at Yahoo?" "I think Marissa Mayer is still working in the best interests of Google by becoming Yahoo's CEO," wrote an anonymous commenter, suggesting Mayer is "part of Google's strategy to cripple Facebook indirectly," because of a patent scuffle the two had gotten into earlier that year.
Read more at The Atlantic Wire.