Pentagon to grow regenerative medicine technology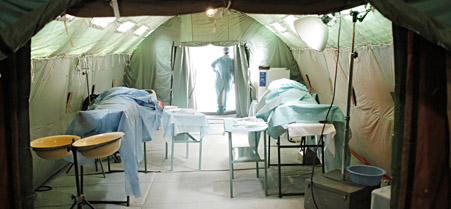 joyfull / Shutterstock.com
The Pentagon has launched a $75 million program to support experiments to heal combat injuries with regenerative medicine, a field that uses engineered cells and artificial organs to repair damaged tissues. The project aims to push promising technologies into human clinical trials.
The U.S. Army Medical Research and Materiel Command, alongside the Office of Naval Research, Department of Veterans Affairs and National Institutes of Health, is now seeking applications for grants, according to a program document posted April 16.
The Pentagon specifically is looking out for limb salvage technologies and ways to treat trauma-induced damage to joints. "With better body armor in use in contemporary warfare, the heightened prevalence of serious extremity injury on the battlefield has increased requirements to treat, reconstruct, and rehabilitate wounded warriors suffering massive tissue loss of the extremities," reads the document. The military is also eyeing new methods of skin regeneration, pelvic reconstruction and treatments for major limb amputation or facial disfiguration, and even considering methods of "hand or face transplantation."
The funding anticipated for the program, called Armed Forces Institute of Regenerative Medicine II, is $15 million annually for five years. Letters of intent are due at 5 p.m. EST on July 2. The full grant opportunity is available here.
(Image via joyfull /Shutterstock.com)