Technology testing could delay Air Force aerial tankers, GAO says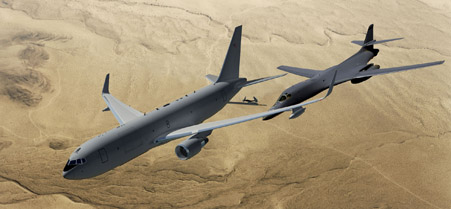 Air Force illustration
The Air Force and Boeing Co. risk falling behind schedule as they incorporate three advanced military technologies into the commercial 767 airliner that serves as the basis for the new KC-46 air tanker, the Government Accountability Office reported Monday.
The service awarded Boeing a $4.4 billion firm, fixed-price development contact for the KC-46A in Feb. 2011, and GAO said estimated costs have climbed $900 million since then. The Air Force plans to spend $51.7 billion to buy 179 KC-46 tankers between now and 2027.
"While designing a new tanker using a modified commercial platform is not as technically challenging as a more revolutionary weapon system, the program still faces some technical risks, including technologies that have not yet been demonstrated during flight," GAO said.
Two of the three KC-46A technology developments are software based, according to GAO. The watchdog said these include an algorithm that provides information for automatic re-routing and construction of new flight paths. GAO described that algorithm as "new and novel technology, critical to meeting operational requirements."
Boeing and the Air Force face other risks in developing related KC-46A threat correlation software -- a new module that correlates tracks from multiple potential threats and automatically reroute the tanker's flight path to avoid them, GAO said.
Boom operators -- who control the refueling system contained in a boom extended from the rear of the aircraft -- in the more than 50-year-old KC-135 and more than 30-year-old KC-10 tankers ride in the back of the aircraft and visually steer the boom through large windows located in its belly.
In the KC-46, the boom operator rides in the front of the aircraft and steers the boom based on visual cues from a three dimensional display system. Images of the aircraft on the screens are captured by a pair of cameras outside the vessel that are meant to replicate the binocular aspect of human vision by supplying an image from two separate points of view. This provides the boom operator with greater fidelity and a more realistic impression of depth, or a third dimension.
GAO said similar technology has been used on two foreign-operated refueling aircraft and a representative model now being tested with other Boeing tankers.
The new software and the 3-D viewing system "have not yet been demonstrated in a realistic environment, a higher level of maturity that is a best practice," GAO said.
When projects begin development with technologies that are only at this level of testing they are likely to experience greater cost growth, according to GAO.
"There is broad agreement that KC-46 schedule risk is a concern," the agency said in its report. "Significant concurrency, or overlap, among development and production activities add risk to the program." GAO added the Air Force and Boeing have said there's a moderate risk of schedule overruns.
Maj. Gen. Christopher Bogdan, KC-46 program executive officer and program director, said in a response appended to GAO's report that due to the fact the KC-46 is based on a commercial airframe it has "nowhere near" as much development risk as other major aircraft development programs.
Bogdan did not address the three key technology concerns GAO raises in its report, but the Defense Department agreed with the agency's recommendation to monitor the contract and developed lessons learned advice for future acquisition programs.