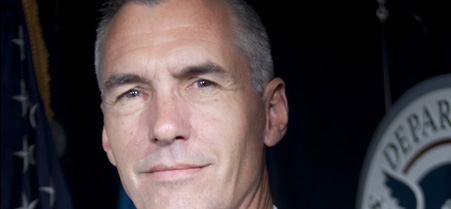 The Homeland Security Department's chief information officer is evaluating dozens of large information technology projects to find ways to cut costs and reduce risks, leaving open the possibility that some programs could be suspended if major problems are found.
"We need to run programs better," CIO Richard Spires told Nextgov on Thursday during one of his first sit-down interviews since taking the job in August. "If you read the [inspector general] reports and [Government Accountability Office] reports, they say that. This is not new news.
"How we go about improving that is where I want us to focus. In the near term, I've taken on the task of personally reviewing all major IT programs in the department."
DHS is reviewing 79 IT projects it identifies as large, those that require a business case analysis -- called an Exhibit 300 -- and are to be submitted to the Office of Management and Budget.
The project review is the first major initiative Spires has undertaken since President Obama appointed him CIO in July. Roger Baker, CIO at the Veterans Affairs Department, drew attention in the federal information technology market when he conducted a similar review in July, which resulted in the suspension of 45 projects that were more than a year behind schedule or 50 percent over budget. Baker announced in October that a number of the projects had been restarted. That review, called the Project Management Accountability System, used specific metrics to evaluate how IT programs are managed.
Spires said it was too early to determine if any IT programs at DHS would be halted. "We'll assess the program, and if it's fatally flawed, we'll stop the program," he said. "We're not going to continue to spend money for no benefit. [But] we haven't seen that yet."
So far, Spires has reviewed about a dozen programs, but he did not identify which ones had been evaluated or how they might change. "As we see issues and risks, I'm pushing that we address [those] risks," he said. "We're doing that, and we're documenting those, and helping these programs improve on a tactical basis. But I also want to use that as a mechanism to discern where we have systemic weaknesses in managing programs."
Spires compared the process to what he did when he served as CIO of the Internal Revenue Service from 2007 to 2008, where he established Centers of Excellence around the program management disciplines to guide best practices.
"How do we improve overall management? We may be able to bring a SWAT team in to get programs on track, or certainly at the beginning of programs, we can get them started right [so] they don't immediately go in the ditch."
Spires hopes the review will strengthen the ties between IT and the department's missions and business processes.
Spires also hopes to address the criticism that DHS is relying too much on contractors to manage major IT programs. In September, James Taylor, deputy inspector general at DHS, told a House Oversight and Government Reform subcommittee that lack of staff led the CIO's office to increase the number of contractors from 121 in 2004 to 550 in 2007. In addition, only 57 percent of the technology budget was evaluated through the department's IT acquisition review process in 2007, Taylor said.
"When you have to do things quickly, like stand up a whole new department, the path of least resistance is to rely more on contractors," Spires said. "That did happen here."
He said he plans to hire more than 200 employees in 2010, which will be paid for by reducing contracting support. "I don't think the balance is right in this office yet, and I'm not sure the balance is right across the whole department," Spires said. "It's important we strike a better balance [where] we provide more leadership, program management, and strategic and technical direction, and contractors shift to implementation."
Spires would not comment on the progress of specific systems such as the Transformation and Systems Consolidation program, saying they were "procurement sensitive."
TASC will integrate DHS' existing financial management systems. A recent GAO report found progress in the development of the system was slow because DHS had not yet awarded a contract for system development.
DHS' massive data center consolidation effort, which involves migrating 24 existing data centers to NASA's Stennis Space Center, will accelerate in fiscal 2010, Spires said. So far five of the data centers have been merged.
"Making sure the processes with that migration are mature" is an ongoing challenge, Spires said. "Based on what I've seen, we're at the point where we've done this enough times, and we know how to deal with the issues. We're in a position to accelerate."
Related to the consolidation is the OneNet initiative, which was introduced in 2005 to blend the department's separate IT infrastructures into a wide area network that provides secure data, voice, video, tactical radio and satellite communications. To enhance security, DHS will use funding from the fiscal 2010 budget to segment the network so only authorized employees can access certain information and applications, according to Spires.
"We're getting there, perhaps not as fast as everyone would like, but we'll be well on our way," he said.