What Feds Can Learn From the Chicago Blackhawks' Data Analytics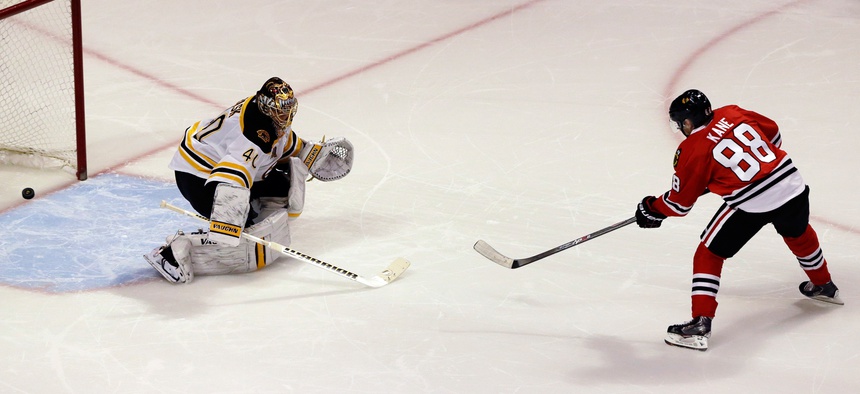 Technology buzzwords get tossed around a lot in government, especially inside the Beltway, where big data, the cloud and analytics are three of today's tech-flavored soups du jour.
Yet while the majority of government is slowly beginning to unlock meaningful results from these technologies, it's important to note that all sorts of industries have found creative – and cost-effective – ways to translate buzzword-laden technologies into major successes.
A May 1 piece from the Chicago Sun-Times highlights a great example of how a complex technology – data analytics – was used by a National Hockey League franchise for a simple purpose: Winning.
Winning, by the way, is the Chicago Blawkhawks' equivalent to what an agency calls its mission, and as evidenced by General Manager Stan Bowman, analytics has helped the Blackhawks win more than any other NHL franchise since they began crunching numbers in the 2009-10 Stanley Cup season.
The Blackhawks' general analytics model tallies top-sheet stats, such as goals and assists, and combines that with a smorgasbord of other data: shot on goal, blocked shots, who is carrying the puck into the offensive zone, and even the quality of competition Blackhawks players face and how they fared.
Models like this are commonplace in baseball, where sabermetrics have a place in every organization's front office, and they serve a valuable place in professional football even among viewers now that Fantasy Football is so popular. And while Bowman hints that many NHL teams have access to the same kinds of software and analytics tools, the Blackhawks have added their own "proprietary" toolset to make it more effective.
"Stats are what they are," Bowman told the Sun Times. "There's no disputing who scored the goal, or who was on the ice for the goal. That's fact. What you do with that is sort of the real value. And I think there's an art to it. The analytics themselves are very objective. But then you have to do something with them and draw conclusions.
"What we do is different," Bowman added. "I think it's better, but I guess it's a matter of opinion. It's also a competitive advantage. That stuff's readily available, but what we have is more proprietary. Which is why I'm really trying not to talk about it. I think what we do gives us an advantage over other teams. They might say I'm wrong, but we're pretty confident that what we have works."
In the NHL, winning is the only metric that ultimately matters, and since analytics became a tool for the Blackhawks, they've bagged two Stanley Cup championships and made the NHL playoffs each year – no rival has been as successful.
Some of the best use cases for analytics in government agencies involve highly-specific mission purposes. The U.S. Centers for Disease Control and Prevention, for example, uses social analytics to track the spread of the flu before data from health centers across the country come in. At the Social Security Administration, every dollar spent on disability fraud detection saves the agency $16.
In government agencies, nothing matters more than the mission, but when organizations outside government find innovative, creative ways to use technology, it's worth paying attention to. If an NHL franchise can take a technology and translate it to a singular mission purpose, surely more agencies in government can, too.